1 Stock To Buy, 1 To Dump When Markets Open: NIO, Twitter
Stocks rose on Friday to cap off the first trading week of 2021. Most of Wall Street's major indexes closed at fresh record highs amid ongoing hopes for more fiscal stimulus.
The climbed 1.6%, while the gained 1.8% on the week. The tech-heavy and the small-cap outperformed on a weekly basis, rallying 2.4% and 5.9% respectively over that time frame.

With Democrats now in control of both the Senate and House, investors will stay laser-focused on the prospect of more fiscal stimulus in the week ahead. Markets will also be tested by the start of earnings season, with JPMorgan Chase (NYSE:), Citigroup (NYSE:), and Wells Fargo (NYSE:) all set to report their respective Q4 results on Friday.
This week's agenda also includes key December data, as well as the latest report.
Regardless of which direction the market goes, below we highlight one stock likely to be in demand in the coming days and another which could see additional losses. Remember though, our timeframe is for just the week ahead.
Stock To Buy: NIO 
NIO (NYSE:) shares are likely to enjoy increased buying activity in the week ahead after the Chinese electric vehicle maker unveiled its first sedan model—dubbed the ET7—at its Saturday.
Founder and chairman William Li also showed off other key battery and autonomous driving technologies at the company's "NIO Day" event, which took place in Chengdu, China over the weekend.
The ET7, which carries a starting price of 448,000 ($69,000) before government subsidies—features a more powerful battery pack, giving it a claimed driving range of 621 miles on a single charge. In comparison, Tesla's Model 3 has a claimed range of 263 miles to 353 miles, depending on the configuration.
NIO's new sedan also features camera resolution of 8 megapixels—compared to 1.2 megapixels for Tesla (NASDAQ:)—and Nvidia (NASDAQ:) chips that offer processing power greater than that of seven Tesla full self-driving computers.
Pre-orders began Saturday, with deliveries set to start in the first quarter of 2022.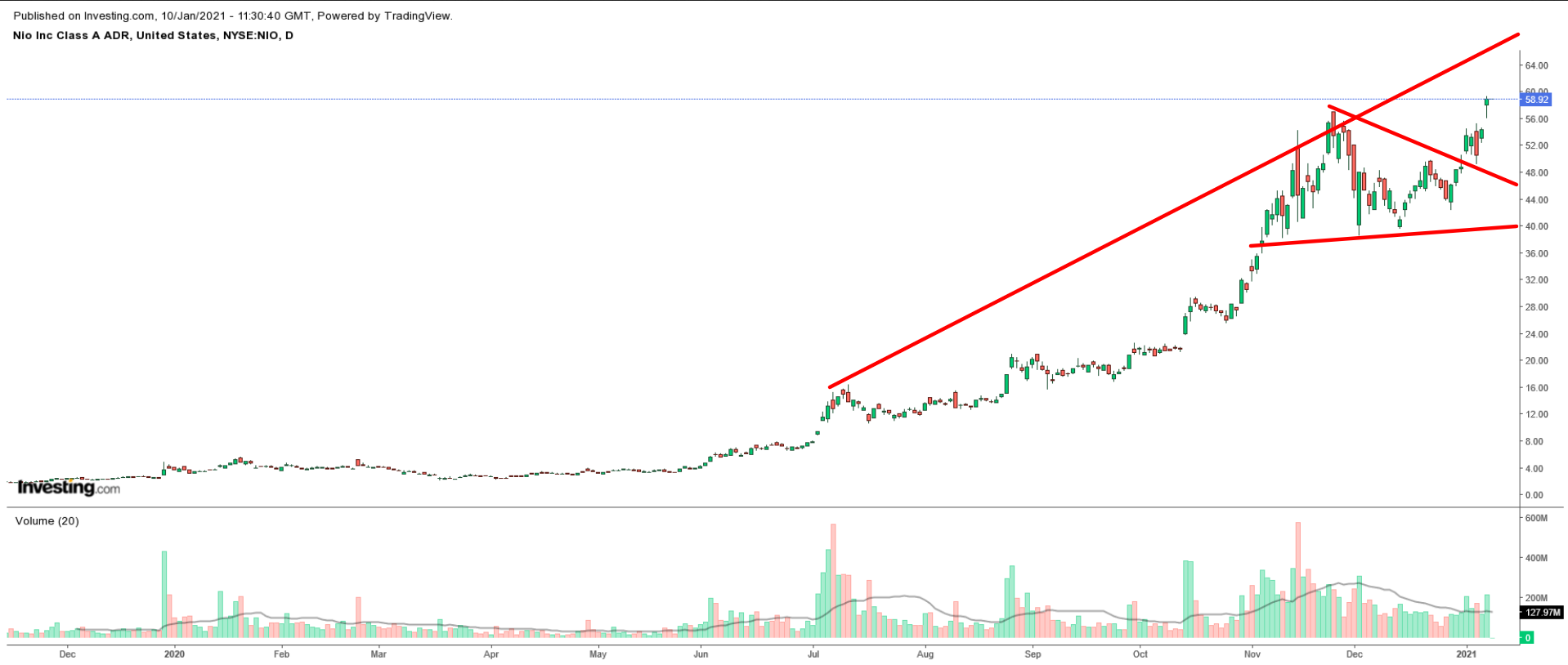 Shares of the Shanghai, China-based EV company, which soared more than 1,200% in 2020, picked up where they left off last year, gaining almost 21% so far in 2021.
NIO stock ended at an all-time high of $58.92 on Friday, giving it a market cap of $92 billion. At current valuations, NIO is the world's fifth largest automaker, bigger than names such as Daimler (OTC:), Ford (NYSE:), Honda (NYSE:) and General Motors (NYSE:).
The China-based electric vehicle maker saw strong growth in vehicle deliveries in 2020, with sales more than doubling from a year earlier to 43,728. It currently has three electric vehicle models on sale, all of which are SUVs.
Despite the monstrous run-up and stretched valuations, we expect NIO's shares to continue their remarkable performance in the week ahead thanks to its growing status as one of the leading names in the rapidly accelerating electric vehicle sector.
Stock To Dump: Twitter
Investors may want to stay away from shares of Twitter (NYSE:) this week in the wake of the social media company's unprecedented decision to permanently suspend U.S. President Donald Trump from its platform, citing the risk of further incitement of violence. In a blog post published Friday night, the San Francisco-based company said:
"After close review of recent tweets from the @realDonaldTrump account and the context around them—specifically how they are being received and interpreted on and off Twitter—we have permanently suspended the account due to the risk of further incitement of violence." 
"Plans for future armed protests have already begun proliferating, including a proposed secondary attack on the U.S. Capitol and state capitol buildings on January 17, 2021," the blog post continued.
The Jack Dorsey-led social media company had temporarily blocked Trump's account earlier in the week, following Wednesday's siege of Capitol Hill by pro-Trump protesters in an effort to overturn his election loss.
Shares of the tech company have already gotten off to a rough start in 2021, falling by around 5% in the first trading week of the year. TWTR stock hit a session low of $50.20 on Friday, its worst level since Dec. 11, before closing at $51.48, earning it a valuation of roughly $41 billion.
Trump—often dubbed the 'tweeter-in-chief' due to his incessant use of the social media platform—has tweeted more than 56,000 times since creating his account in 2009. He had an audience of 88.7 million followers prior to his suspension, with his tweets regularly attracting tremendous traffic and engagement.
In a statement issued by the White House, Trump said his administration has "been negotiating with various other sites, and will have a big announcement soon." He added that his team is looking "at the possibilities of building out our own platform in the near future."
In addition, Trump reiterated his call to repeal Section 230 of the Communications Decency Act, a law that protects tech companies from being held liable for what users post on their platforms and for moderating them. The sentiment was echoed by other Republican lawmakers over the weekend.
Taking this into consideration, TWTR shares look set to remain on the backfoot in the coming week as it faces mounting challenges ahead, both on the user-engagement front as well as growing regulatory concerns.